We will be revealing each artist that is taking part in this new 2012 series.
Tara McPhersom.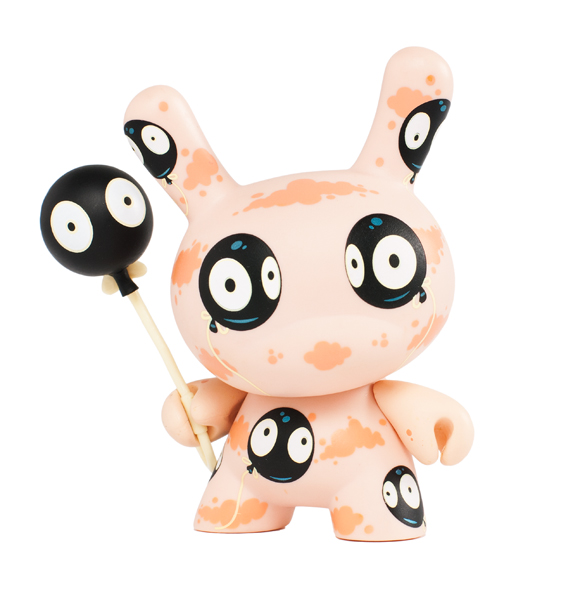 First in line is Tara McPherson with her piece called Mr Wiggle.this piece show her amazing baloon figures.This piece is 2/20 ratio.
Triclops Studios.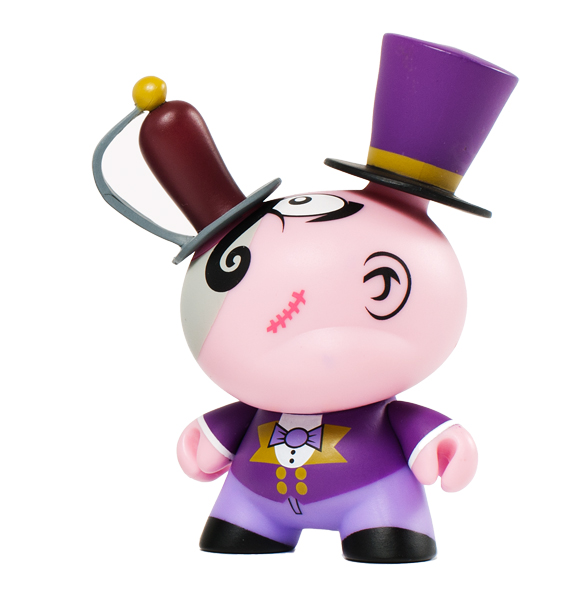 Brothers Rob and Luc have created The Sword Swallower, they have changed the ears of the Dunny to use them in another interesting perspective,this piece is a 2/20 ratio
Andrew Bell.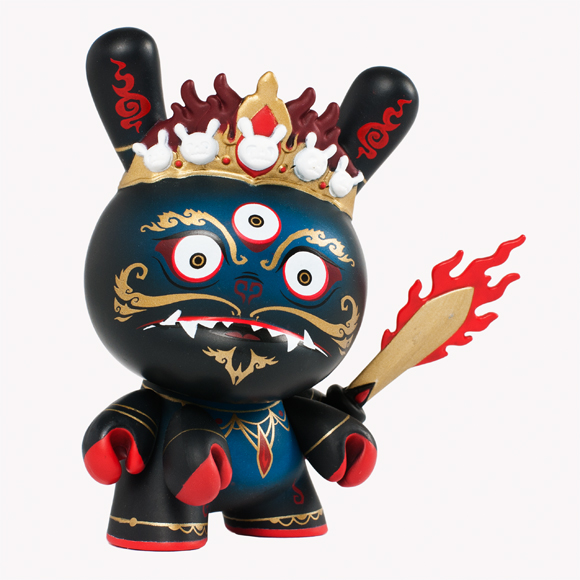 Andrew Bell's wicked 3 eyed Dunny called Mahakala is berry different as he has 4 arms and a special crown that has been sculperted into the head. This piece has a sword as an flaming sword as a accessory. This piece is a 1/40 ratio so it will be a difficult one to find.
Will this artist have a chase piece in the series, check out these other colour ways.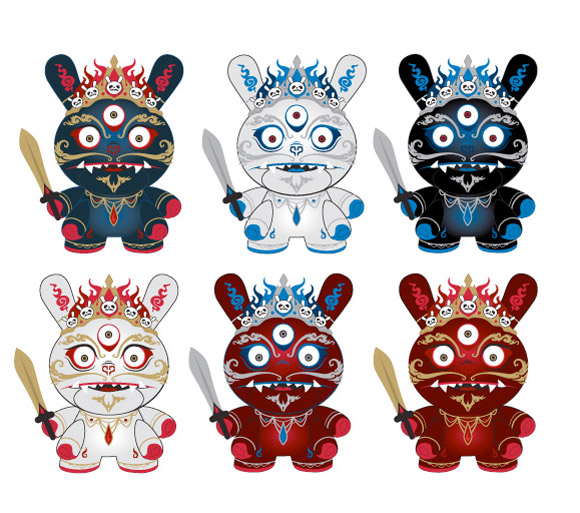 Pac 23
The Dead Astronaut
(2/20)
is inspired by a few of Pac23′s gorgeous illustrations. As a fellow vinyl addict, Pac23 is looking forward to adding his very own Dunny to his expanding collection
Nakanari.
Mai Hiro
master
Nakanari
is taking his cute and deadly
Ninja Spiki
design and kicking it up a notch up for his new design for
Dunny Series 2012
. Originally released in 2009, Ninja Spiki has seen many different reiterations on vinyl, canvas, customs and murals.
Jeremiah Ketner.
Taking inspiration from a previously customized TRIKKY, Chicago painter
Jeremiah Ketner
aka
Small and Round
has taken his beautiful
Sayonara
design and adapted it for his very first production Dunny in 2012.
Scribe.
Kansas City based urban artist
Scribe
aka
D. Ross
goes above and beyond the normal 3-inch stature for
DS2012
with his first production Dunny,
Jonahone Giraffe
. We have seen Scribe express his love for animals through his various projects including the custom Giraffe MUNNY.
Junko Mizuno
Junko Mizuno's Purple soda girl looks amazing, its great to see that KR are including many adjustments to the dunny platform now.
"I had already designed two Dunnys and this time I wanted to make a crazier one that reflects my recent style. I took some elements such as crazy hair, detailed flowers and gold flames from the paintings that I did in the past two years."
Purple Soda Girl definitely reflects the subject matter Junko
painted live at the Cosmopolitan Las Vegas
last year.
Sergio Mancini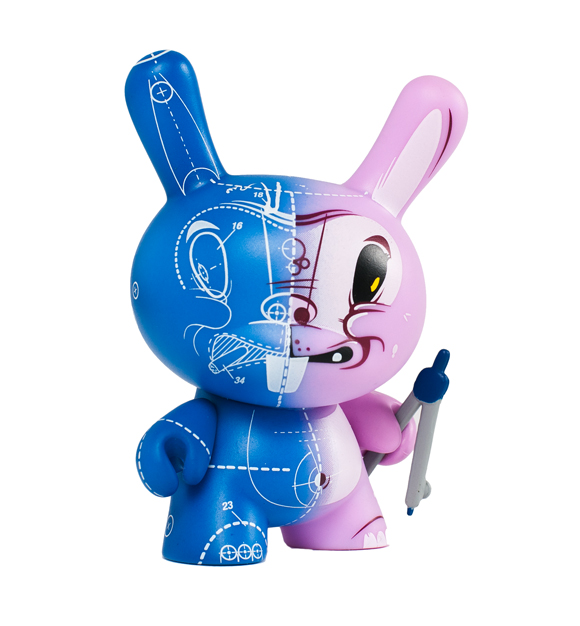 Brazilian designer Sergio Mancini was the first confirmed DS2012 artist when he took Best In Show last year in our 2011 MUNNYWORLD MEGACONTEST. His original design Project: Munny has been given the vector treatment to adorn our beloved Dunny. Although Sergio won't be attending any DS2012 Trading Parties, the Most Wanted custom artist is gearing up to release his extra special Artist Proofs of Project: Dunny (2/20) with an added triangle accessory plus an original painting. Stay tuned to @sergiomancini on Twitter for breaking details.
Mauro Gatti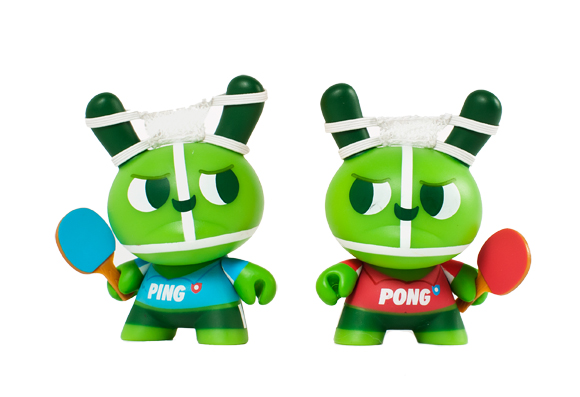 Italian illustrator and table tennis aficionado Mauro Gatti hits us with a double dose of Dunnys with his new playful pair, The Ping Pong Twins (3/40). The founder of Milan based creative firm Mutado, Mauro's favorite sport has been ping pong since he was a kid and can't help but wanting to play every time he sees a ping pong table. He is also a huge fan of Italio Disco and highly recommends you crank up the 1978 song, "Ping Pong Space" when unboxing the upcoming Dunny Series 2012.
MAD
Bent World creator
MAD's
dope new
Vandal
design will be dropping bombs
June 21
in
Dunny Series 201
2. This
2/20
design is equipped with removable gas mask and spray cans as ears. Check out the various stages of life the Mad Vandal has gone through to get to final production.
Kronk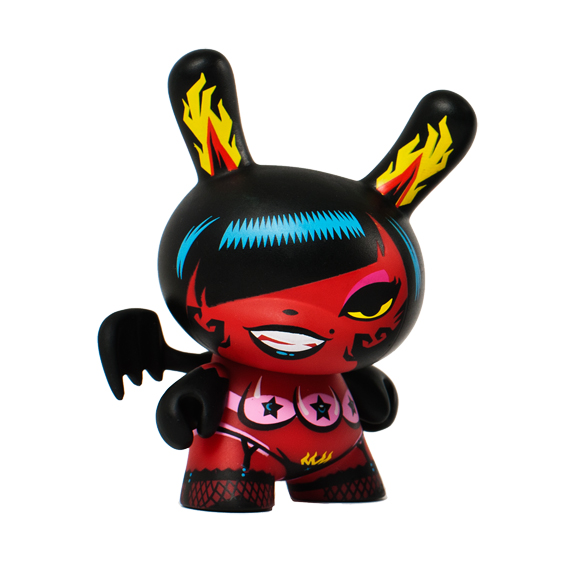 Hailing from South Africa, the extraordinary Kronk delivers yet another amazing work of art for Dunny Series 2012. Not only did he design the box art, his latest latest devilish design titled, "Ooh La La" is quite the head turner. So keep your eyes peeled for this racy vixen since she has a ?/?? ratio.
Capetown locals beware, Kronk will be gracing ToiToy with his presence this Thursday, June 21 for one of the few international DS2012 Artist Signings. Find your nearest trading party all around the globe with our Dunny Series Trading Party Map.